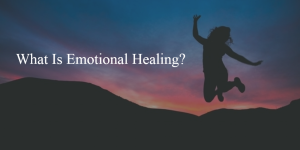 What Is Emotional Healing?
Suppressed negative emotions take root early in life and accumulate and are buried over time but don't go away. They manifest in all sorts unhealthy thinking and behaviors.  This is an opportune time for Satan to set up strongholds in our minds. A stronghold is a way of thinking that holds us bondage in our minds, and it strangles the abundant life of a believer.  Over time, each negative emotionally hurtful event in our lives can add another layer of woodenness and unless it is brought to the light can rob us of our joy and peace in our walk with the Lord and affect our emotional health and well-being.
The first step to achieving emotional healing is being honest and recognizing that rather than blaming others and staying a victim, we need to take accountability for how we have been dealing with past hurts.
"Jesus says if you abide in my word you are truly my disciples, and you will know the truth and truth will set you free"…."So if the Son sets you free, you will be free indeed."  (John 8:32,33)
How can we experience this freedom if we are still carrying around our backpack of emotional hurts and pain? In order to know this freedom, we need to acknowledge that we have not dealt with these buried emotions and need them brought to the surface so our Lord Jesus can sever them at the root.
Then and only then can God take us from a broken, hurting, anxious individual and restore us so that we can finally experience the peace and joy that the Lord desires us to have in our walk with Him.
"He reveals the deep and secret things; He knows what is in the darkness and the light dwells with Him."
(Daniel 2:22 Amplified Bible)