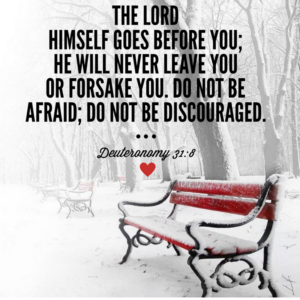 Christmas is a time of good cheer, excitement,  expectancy, warmth, busyness and feelings of joy surrounded by family and friends. But for some, it can be a time of extreme loneliness.  Loneliness can be described as a feeling of emptiness in the pit of your stomach when someone you love has left you either through death or broken relationships. You may feel abandoned, unwanted, or unneeded as if you're all by yourself when you are actually surrounded by all kinds of people. You may feel like no one really cares.
These feeling can intensify if you begin to believe that your loneliness is a result of something being wrong at a core level with you – that you are somehow unacceptable, unworthy, don't measure up, or unlovable.  When this happens, you may feel hopeless and have nothing to live for. Your pain can erode your self-worth, and drain you of strength.  Loneliness puts a huge wall around your heart and prevents you from allowing others in including God.
When you feel as if the entire world has abandoned you, and that no one understands your pain and sorrow God's Word promises that the Lord is with you and He will never leave you.
The Lord himself goes before you and will be with you; He will never leave you nor forsake you. Do not be afraid; do not be discouraged."
Deuteronomy 31:8
In your loneliness and despair, have you distanced yourself from the Lord?
It is never too late to draw near to Him again. You are His precious child. And when you return to Him, you will be welcomed with open arms. You will have heartfelt joy when returning home to the shelter of God's unconditional love and acceptance. You are never alone!