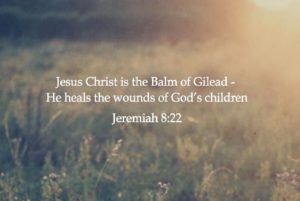 Welcome to our blog. The Balm of Gilead is a ministry founded to bring healing and hope to God's broken and hurting people. We are made up of counselors, brothers and sisters in Christ who have been healed, redeemed and set free from various strongholds that brought damage to our souls and crippled our ability to love and know our value and worth in Jesus Christ.
This blog is designed to offer education, hope, and encouragement for those dealing with some of life's most difficult issues. God wants to heal your hearts and equip you to live a victorious life in Him no matter the struggle, the root issues, the sin you've committed or has been committed against you, the pain, trauma, nothing is beyond God's power to heal. The same power that rose Jesus from the grave has the power to break the chains of the past. He can heal and restore you. I pray you get the help you need so that you can walk in freedom and live the abundant life that Jesus came to give.
"He heals the brokenhearted and binds up their wounds." Psalm 147:3
To read our recent articles click on recent posts on the side menu on the right-hand side.
To find out more about our ministry visit us at our website
Click Here