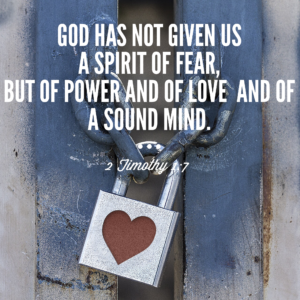 Fear is a strong emotional reaction to imminent danger – real or imagined, rational or irrational, normal or abnormal. It is a natural emotion designed by God. However, living with a fear based mentality or with a spirit of fear is not from God.
Sometimes fear is real, we get a call in the middle of the night. Those calls are usually never good news. Often, the caller is delivering some bad news such as someone we love has been in an accident. As a result, our hearts are gripped with fear of the unknown. Is my loved one going to survive? We can find out that we may lose our jobs due to layoffs. Or the doctor tells us we have a terminal illness. Most of us will face some of these life issues at some point in our lives. The fear is real. But often times it has no basis in reality. We can fear what has not happened or will never happen. We may be gripped with fear about the possibility of getting sick, getting in a car accident. We can fear rejection and never pursue friendships, job opportunities, relationships, and we can fear failure and never pursue anything
If you grew up in a home where fear reigned, and you didn't experience love, safety, and security, you might have easily developed a fear based mentality. This abnormal fear cripples and stunts any personal growth or aspirations. It prevents a person from even trying, or leaving bad situations even abusive ones. It can also prevent us from seeking help for fear of what will be uprooted. Fear can also be the driving emotion behind anger. This is bondage, and we need to be set free.
God's word tells that "perfect love cast out all fear." (1 John 4:18) It makes sense then that if we are love deficient we are fear based. The solution is to Get God's love in you. As easy as this may seem, for those who have been crippled in their ability to love and be loved because of the wounds of the past, it is extremely difficult. Only the truth of God's love can penetrate the hardest of hearts. We can overcome fear through faith in a loving God.