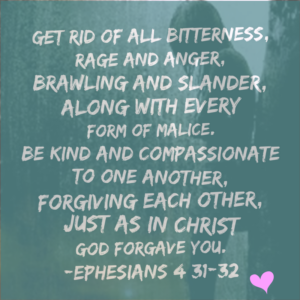 Precious Heavenly Father,
You know the wounds that are in my heart….the lies, the faulty thinking, the fear, the sorrow left over from the hurts of my past.
I give them all to you and ask that you would heal me and release me from all emotional strongholds hindering me from experiencing the fullness of your love and grace.
I choose to live in Hope even when I feel hopeless. I will not harbor hate even when I am ignored. I will live with Your peace even when I am rejected.
I will love with Your love even when I am scorned. I will pray with Your heart even for those who hurt me. I will forgive with Your grace even when I'm betrayed.
I won't focus on fear, for I know You are faithful. I won't let heartache reign; I'll move forward with faith.
I will stand on your Truth no matter the circumstances because I know that Your love never fails.
In Jesus Name, Amen!