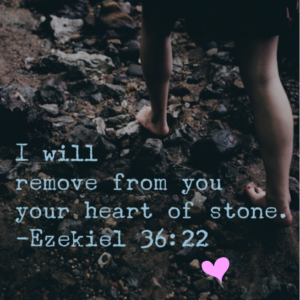 A deep wound, a broken heart, disappointments, bitterness, and unforgiveness can cause the heart to become hardened with time. It causes us to put up walls. Our defenses go up. We self-protect, and we don't let anyone in including God.
Self-protection leaves us running on reserve and is the cause of intimacy issues and conflict in relationships. It seems that it's easier to be hard than soft and vulnerable because we don't want to get hurt. But you were not created to live that way. God made you to be tender and responsive.
It's hard to shape stone.  As long as your heart remains hard, you will miss out on the abundant life Jesus came to give. So let the living God come into your heart, heal your wounds and tear down your self-protection and defenses.
The amplified version of Ezekiel 11:16 says "And I will give them one heart, a new heart, and I will put a new Spirit within them, and I will take the stony, unnatural hardened heart out and give them a heart of flesh, sensitive and responsive to the touch of their God."
Give your hurts to the Lord. Let God shape you. When you do that…He will leave His fingerprints all over your heart.