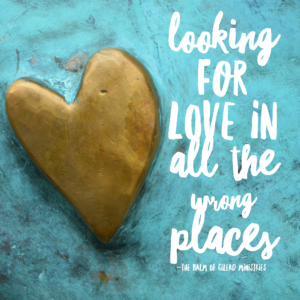 Every human being yearns to be loved. It's a legitimate need placed in us by our creator. If our need for love is not met as children, we will go through life with an empty void in our hearts looking for love in all the wrong places taking our empty love cups to people, places and things desperate to have our cups filled.
We can also try to fill our cups through approval, achievements, affirmation, control, money, success, appearance or immediate gratification. Unfortunately, none of these things will satisfy the ravenous craving in our hearts for love because only God's love satisfies. His love is unfailing, unwavering, unconditional and never ending. His love is enough. Any other kind of love will leave us wanting, even suffocated, drained, yearning for peace and contentment. Because it's not the real deal. It's a counterfeit. It leads to captivity – bound to someone or something.  Authentic love leads to freedom.
God's word says " That you being rooted and grounded in love will be able to comprehend with all the saints how wide and long and high and deep the love of Christ is, and to know this love which passes knowledge; that you may filled with all the fullness of God." Ephesians 3:17-19
We will never be able to experience the depth of God's love unless we have a healthy love foundation.  Have you experienced the fullness of God's love? If not, there may be something you were rooted in preventing God's love from taking root in the soil of your heart that may be causing you try to get your love cup filled in all the wrong places.
Take your empty cup to Jesus and ask Him to fill it and remove any barriers and false beliefs preventing you from receiving His deep, satisfying love. He is faithful to meet us at our point of need. His love never fails.