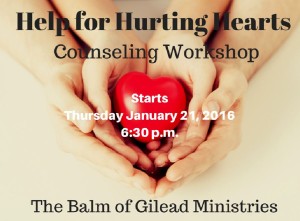 Fear, betrayal, rejection, anger, unforgiveness, addictions, relationship conflict, are just some of the real life struggles facing God's children today. Proverbs 4:3 says "Above all else, guard your hearts, for everything you do flows from it." Is your heart troubled? Do you know someone who is hurting? Healing only comes when we deal with the matters of our hearts.
Come join us as we explore the issues and struggles that affect God's people every day that cause so much pain and conflict. Hear practical advice and learn biblical counseling solutions that will walk you into freedom and victory. This counseling workshop is designed to not only provide you with help for personal struggles, but will also equip and empower you to help and disciple others who are hurting.
Help for Hurting Hearts Workshop is offered free of charge and open to all. However, registration is required as seating is limited. Hope you can join us. We are covering you in prayer. May God richly bless you.
For more information and registration please visit us at our website.