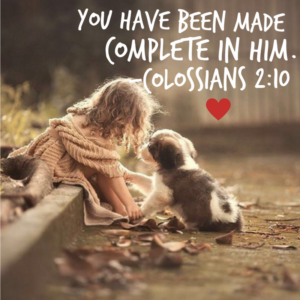 You don't need someone to complete you. You only need someone to accept you completely.
If you're looking to anyone or anything to fill and complete you other than Jesus you will be let down, disappointed and blame others for your unhappiness.
How can anyone accept you completely if you can't accept yourself? Complete acceptance of who we are only comes when we can see ourselves through the eyes of Jesus – Loved, accepted, chosen, adopted, forgiven, redeemed!
If you feel less than and think you don't measure up get to the root! Live in the fullness of His love. Stop looking to others to meet your needs. Only the Son of the living God can meet your need for love and acceptance.
"And My God will supply all your needs according to His riches in glory by Christ Jesus."
Philippians 4:19