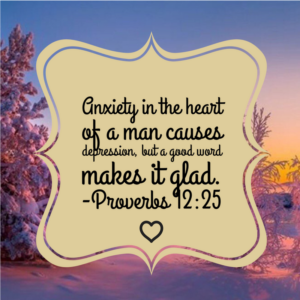 It's amazing how one, simple verse, rings so true in many of our lives. Anxiety isn't something that we're meant to carry. If we're burdened by it, it's a red flag that there is a deeper issue going on in our hearts… an issue deeper than our situation.
We all have anxiety to some extent, and it's nothing to be ashamed of, but the difference between each of us is how we have been taught to handle that anxiety.
Some of us act, and react, out of what our experiences have taught us to do, and the rest of us, out of what God tells us to do.
God is freedom. Jesus is freedom! He is THE designer of our hearts and he knows how to deliver each of them from anxiety. God's way takes us higher, our way takes us lower.
If you're feeling the burden of anxiety, or are even in depression from living with anxiety, there is hope. God is a "good word" and He can make you glad again… it's just going to take your surrender.
Announce to God that this world hasn't given you any relief, and that, you are ready to try it His way. Then, hold out your hands and allow him to take your fear and anxiousness upon Himself, exchanging your burdens, for His love.
God is "a good word." Grab a Bible, and start to receive.
"Come to me, all you who are weary and burdened, and I will give you rest."
— Matthew 11:28 (NIV)