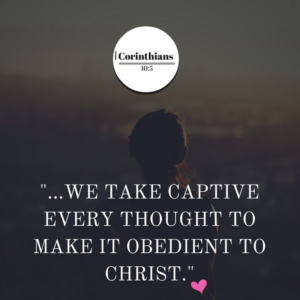 Just like our bodies can get physically sick and impair our physical functions, our minds can also get sick and can alter our feelings such as anxiety, depression, etc. Sadly, we live in a culture that labels everything a physical disorder because then we can apply physical healing by medicating. So often the symptom is treated without getting to the root. Physical conditions are real but more often than not are an effect and not the cause of the underlining problem. Modern medicine fails to recognize that often physical symptoms can be linked to negative emotions. When a person becomes spiritually and emotionally healthy, these issues often go away.
Dr. Carolyn Lear author of "Who Switched Off My Brain" has found correlations between our thought life and physical and emotional illness. When you feel sad, afraid, angry or hopeful, your brain releases different types of chemicals. Depending on whether or not these emotions are toxic to your body, the chemicals will either help you or harm you. If they are harmful, they create conditions for a host of health problems that will manifest in both the body and the mind.
Emotions that regularly release a torrent of destructive chemicals that will be the most damaging over time – unforgiveness, anger, rage, resentment, depression, worry, anxiety, frustration, fear, excessive grief, and guilt.  Research shows that around 87% of illnesses can be attributed to our thought life, and approximately 13% of the diet, genetics, and environment. These toxic emotions can cause migraines, hypertension, strokes, cancer, skin problems, diabetes, infections, and allergies, just to name a few. Some Examples:
Joy
When you are at peace, chances are you are experiencing joy – your body produces endorphins, serotonin – these are the feel-good chemicals. These produce pleasure. This is conducive to an overall system of well-being, vitality, and health. This is positive.
Anxiety & Fear
These destructive emotions will cause the body to release harmful chemicals such as the stress hormone CRH and ACTH. These hormones race to the adrenal glands to produce cortisol and adrenaline which cause extreme physical symptoms, heart palpitations, and breathing difficulties. Serotonin and endorphin levels can deplete which cause severe depression
All these emotions primarily begin with a thought, which if not taken captive can lead to negative and toxic thinking resulting in the release of the negative chemicals which in turn can result in a host of physical ailments.  That's why it is essential to rid ourselves of the contaminated belief systems that may have taken root throughout our life affecting our emotional life and relationships. Faulty belief systems are strongholds that have built up in our minds that must be demolished. How do we do that? We go to war against them. God's word says….
"For though we live in the world, we do not wage war as the world does. The weapons we fight with are not the weapons of the world. On the contrary, they have divine power to demolish strongholds. We demolish arguments and every pretension that sets itself up against the knowledge of God, and we take captive every thought to make it obedient to Christ." 2 Corinthians 10:3-5
Every negative thought, belief system, and lie must be replaced with truth. Jesus said, "You will know the truth and truth will make you free." (John 8:32)  We do not have to live in bondage to a hurtful past or negative emotional life.  No matter our past experiences we can live a life of abundance in Christ. Give your burdens to Jesus. He is faithful to heal you from the inside out and give you rest.
"Come to me, all you who are weary and burdened, and I will give you rest. Take my yoke upon you and learn from me, for I am gentle and humble in heart, and you will find rest for your souls. For my yoke is easy and my burden is light." (Mathew 11:28-30)